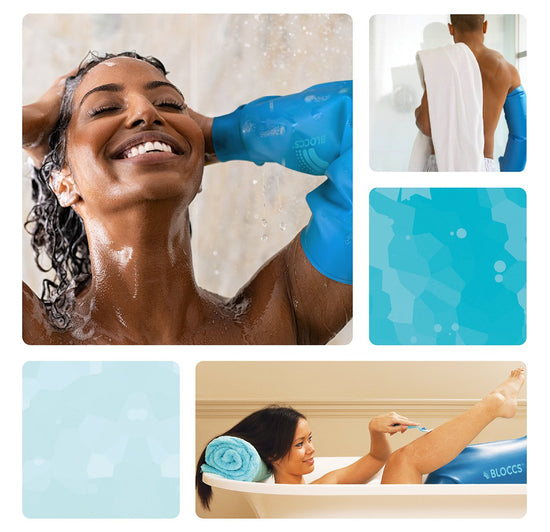 RELAX, BLOCCS® HAS YOU COVERED
Bloccs® Cast and Dressing Covers are invaluable if you or a loved one are suffering from a limb injury that needs waterproof protection. Durable and of the highest quality, our protectors are second to none.
Our range of Bloccs® Waterproof Cast and Dressing Covers are reusable and submergible, making accessing the water with an injury no longer a problem.
Bloccs® have been designed to fit and protect different sized casts & dressings.
The Arm, Leg, Elbow and Knee protectors are made from soft flexible rubber and have been designed specifically for use in the shower, bath and even the pool.
Our covers help you continue to enjoy water whilst
recovering from a limb injury. This can be for daily use at HOME, at the BEACH,
LAKE or in the POOL.
Suitable for both adults and children. Simply choose a cover from our range of sizes.

MORE ABOUT BLOCCS®
SHOP BLOCCS COVER RANGES BELOW...
ALL YOU NEED TO KNOW AND MORE!
CARE & USER GUIDES
Bloccs® are easy to use and wear.

Our Instructions for Use and videos give helpful hints & tips on how to put on and care for a Bloccs® protector. You can be confident that you get the most from your cover.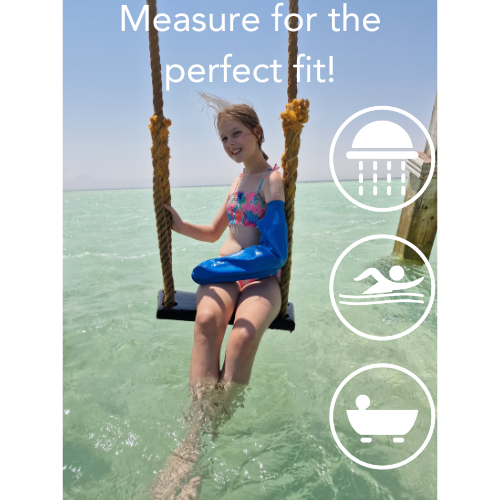 SIZING FAQs
Finding the perfect fit!
The covers have been designed to fit a range of casts & dressings, covering everyone from small children through to adults.
Use our convenient Arm, Leg, Elbow and Knee Sizing Guides to accurately and quickly find the perfect fitting waterproof protector.
QUICK SHIPPING
At Bloccs® we understand that you would like your order as quickly as possible.

We offer a variety of delivery options, so simply choose where you would like your order to be sent! Whether it's your home address, a holiday destination or even delivered straight to a loved one.  
For same day shipping all UK orders must be placed before 2:30pm.
FOLLOW US @BLOCCSWATERPROOFPROTECTORS